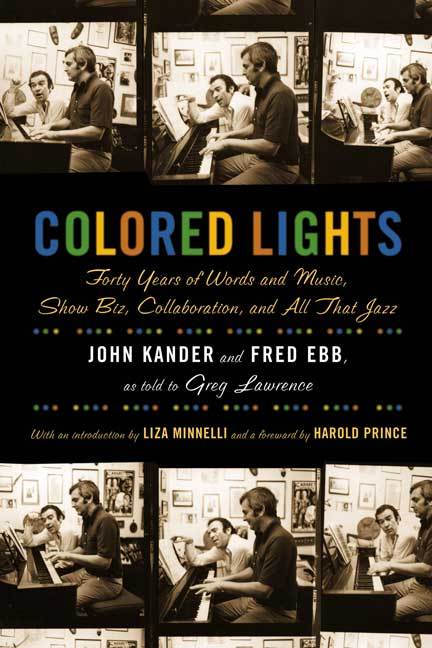 Colored Lights: Forty Years of Words and Music, Show Biz, Collaboration, and All That Jazz
From Publishers Weekly, 2003:

Anyone who enjoys musical theater will delight in this anecdotal memoir by an accomplished musical team who began their partnership in 1962. The text, a series of conversations told to Lawrence (Dance with Demons: The Life of Jerome Robbins), reads like an extended gossip column written with style and wit. Composer Kander and lyricist Ebb collaborated on many Broadway shows including their first, Flora the Red Menace (1965), Cabaret (1966) and Chicago (1975). Their recollections bring the golden age of musical theater to life and reveal the nuts and bolts of creating a score for a successful musical. The two reminisce freely about stars such as Liza Minnelli, Barbra Streisand and Bob Fosse, with whom they had close working relationships. They lavishly praise Minnelli's talent and charm (often to the point of overkill) and are compassionate about her emotional ups and downs. Streisand, however, is damned with faint praise, and Ebb recounts abusive treatment from Bob Fosse, who had undergone a recent heart bypass operation, while they were working on Chicago. In another vignette, Kander and Ebb describe how they came to write the title song for the film New York, New York for Martin Scorsese. Although they were offended when Robert DeNiro criticized their first attempt, the new version was the one that became their greatest single hit.