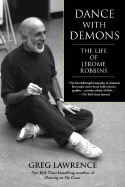 Dance with Demons: The Life of Jerome Robbins

From Frank Rich, The New York Times:
As wholehearted an immersion in dance as Robbins's life would seem to call for...

From Publishers Weekly, 2001:

Choreographic and theatrical genius Jerome Robbins was born in 1918 in New York City into a materially comfortable but emotionally bleak Jewish immigrant family in New York City. Lawrence (who coauthored Gelsey Kirkland's Dancing on My Grave) points to this emotionally bereft childhood and paternal disapproval ("My son's a fag how can I talk to him?" was reportedly his father's attitude), as well as Robbins's struggles with his Jewish heritage, his sexuality and, most famously, his decision to name names before the House Committee on Un-American Activities in the 1950s, as the definitive aspects of Robbins's life and creative legacy. The sum total of Robbins's work as reported here is staggering; his decades at the heart of the golden ages of American ballet, musical theater, theater and film, as director or choreographer, often in collaboration with such giants as Leonard Bernstein and George Balanchine, left the American public a cultural gold mine. Lawrence interviewed hundreds of dancers, actors, directors, family members and other contemporaries all, whether they loved or hated him, recognized both Robbins's genius and his clearly tortured soul. Most of the remarks herein tell us far more about the speaker than about the subject, but as such, they form an indelible picture of the various eras during which Robbins worked (he was active almost until his death in 1998). Robbins himself made numerous attempts over the years to write his own autobiography, only to abandon them repeatedly when the emotional cost became too great. In the end, Lawrence's account, though comprehensive and lively, can only give us a solid picture of Robbins's times and contemporaries the man himself remains a mystery. Illus. not seen by PW. (May)Forecast: Readers in New York, the center of the ballet and theater worlds, will grab this much-touted book. First serial in Vanity Fair; forthcoming reviews in the New York Times by Janet Maslin, the New Republic, the Washington Post Book Review and Variety ...will bring lots of attention.