Jackie as Editor: The Literary Life of Jacqueline Kennedy Onassis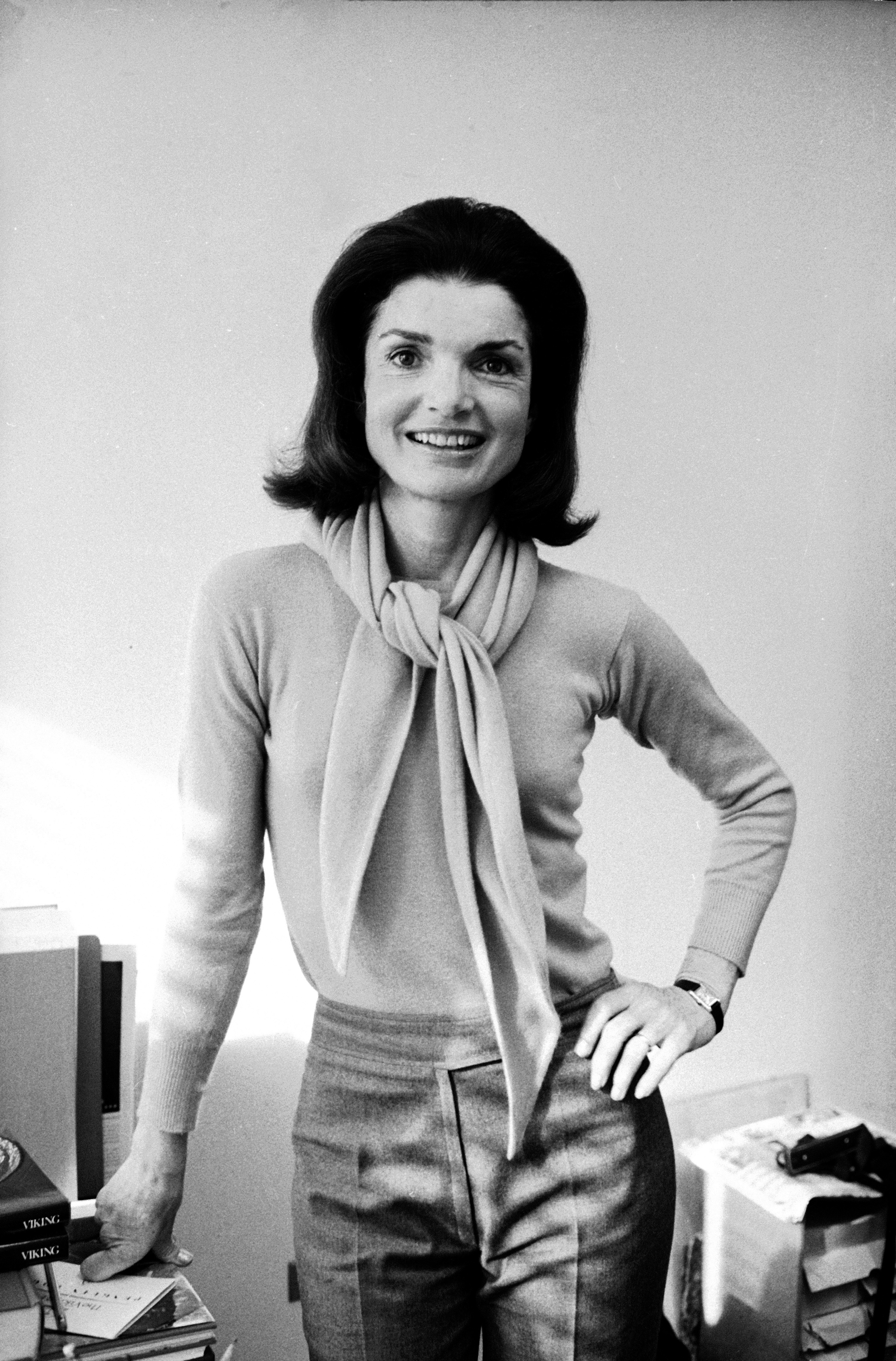 Below are reviews from the Wall Street Journal, Washington Post, Kirkus Reviews, Publishers Weekly, and praise from one of Jackie's former Doubleday colleagues, author Harriet Rubin.

"For Jackie Kennedy Onassis, the role of editor was just another version of her role as America's muse. She created the Camelot story in the JFK histories, and years later she wrought the same magic upon the books she edited. I kept wondering as I read Greg Lawrence's book what Mrs. O would have made of this delicious biography. This is a great story about a woman who had everything--men, money, power--and all she wanted was more to read. I bet she would have loved Jackie as Editor. Every book lover and fan of Jackie will be caught in its magic.

--Harriet Rubin, author, The Princessa: Machiavelli for Women and Dante in Love

WALL STREET JOURNAL
APRIL 5, 2019
Five Best: Susan Page on Books About First Ladies
The author, most recently, of 'The Matriarch: Barbara Bush and the Making of an American Dynasty' recommends works about the workings of the East Wing.
Jackie as Editor: The Literary Life of Jacqueline Kennedy Onassis
By Greg Lawrence (2011)
5. Jackie Bouvier Kennedy Onassis has been immortalized as a fashion plate, a grieving young widow and a Greek shipping magnate's wife. And when she was 46 years old, she also became a book editor, a job she would hold for two decades—nearly a third of her life. Her status notwithstanding, she was no dilettante but a skilled and graceful editor. The hundred or so books she shepherded into print may be "the best window we will ever have into her heart and endlessly inquiring mind," writes Greg Lawrence, himself one of her authors. He describes her hands-on role in shaping "Dancing on My Grave," a best seller he co-authored with ballerina Gelsey Kirkland. "The 20 preceding pages could be summed up with this one concise sentence," Onassis wrote on an early draft, proposing, instead: "I was trying to be a classical dancer on a modern stage." The first book she edited—on the role of women in America from 1750 to 1815—was titled "Remember the Ladies."
WALL STREET JOURNAL
BOOKSHELF
DECEMBER 18, 2010
Rewriting Her Legacy

It's hard to imagine that there's more to say about the extraordinary life of Jacqueline Kennedy Onassis, but it turns out that there is: Two dueling books tell the story of the last third of her life spent as a literary editor in New York, with JFK and Ari just ghostly presences in the background.

William Kuhn's "Reading Jackie" and Greg Lawrence's "Jackie as Editor" are seemingly the same book—chronological accounts of her 19-year career at the publishers Viking and Doubleday—but they are actually very different. Mr. Kuhn's is heavy on hagiography and analysis, Mr. Lawrence's is an energetically reported and crisply written story of a whip-smart, middle-age working woman who marshaled wits, charm, steely will and, of course, unmatched connections to make a new life for herself.

In 1975, Jackie (as both authors choose to call her) found herself stranded in a 15-room Fifth Avenue apartment overlooking the Metropolitan Museum of Art in New York after the death of her second husband, the coarse billionaire Aristotle Onassis. Two debonair godfathers rescued her from idleness and depression. The first was Tom Guinzburg, an old friend who had inherited Viking from his father and who invited Jackie to be a consulting editor for $10,000 a year. When that job ended badly, John Sargent, another charmer, brought her to Doubleday, where she had a long and productive run.

The question about Mrs. Onassis's career has always been whether she was a serious editor or just an ethereal beauty wafting around town from authors' lunches in the Grill Room of the Four Seasons (where she liked to sit in the Siberian balcony) to chic book parties. Mr. Kuhn and Mr. Lawrence make it clear that she was a tireless and imaginative acquirer of compelling if sometimes esoteric books, an editor who nurtured her writers and fought like a lioness for her projects with the suits on the business side.

Over the years, her lists reflected a taste for aristocracy. She published exquisitely illustrated books about Versailles and stylish accounts of Louis XIV and life in the French courts. She did the same for the Romanovs, Mughal India, Stanford White's New York architecture and George Catlin's drawings of North American Indians. There was expensive fluff, too: Six coffee-table books glorifying Tiffany (Fifth Avenue, not Louis Comfort).

She had her best sellers, although neither Mr. Lawrence nor Mr. Kuhn manages to give many sales figures for her titles. She inspired Barbara Chase-Riboud to write a smash novel about Thomas Jefferson's slave consort, SallyHemings. The tell-all memoir by the drug-addicted ballerina Gelsey Kirkland, "Dancing on My Grave," was a winner, too, as was Bill Moyers's transcribed TV conversations with mythologist Joseph Campbell. She could be commercial, lavishing years (and several ghosts) on "Moonwalk," a Michael Jackson extravaganza with a feeble text. "Do you think he likes girls?" she archly asked a colleague after yet another weird visit to the King of Pop.

Reading Jackie
By William Kuhn
Doubleday, 350 pages, $27.95

Mr. Kuhn's conceit in "Reading Jackie" is that the opaque story of the last part of her life can be revealed by glossing her publishing output. This is valid enough, but the result can be ponderous. Discussing a Jackie book about presidential wives, Mr. Kuhn reflects that colonial women were often involved in printing and news paper work and adds: "[So] to have joined Viking was less a new departure than a return to an earlier tradition. That must have appealed to a woman as history-minded as Jackie." Still, he does provide a priceless glimpse of Mrs. Onassis exclaiming "Oy vey!" as she wrestles with files on the floor of her tiny Viking office.

Mr. Lawrence's book is full of vivid anecdotes evoking what it was like to be one of Jackie's colleagues or authors—or her boss. He gives a detailed account of the worst moment in her publishing life: when she quit Viking after Tom Guinzburg put out a potboiler by Jeffrey Archer in which President Ted Kennedy is the target of an assassination attempt. Mr. Kuhn kisses off this episode in a page. Mr. Lawrence shows convincingly that it was only after the Kennedy family erupted and she was rebuked in a snarky New York Times review that Mrs. Onassis claimed to be victimized by Mr. Guinzburg and quit the house.

Jackie rarely line-edited her titles, but Mr. Lawrence has got hold of original manuscripts and editor's letters documenting her close reading and perceptive questions and observations. She directed several authors to cut their books in half and had no trouble telling a master like Louis Auchincloss, the blue-blooded chronicler of New York and 18th-century French society, to liven things up. "Could you get a little more air flowing through it in places where information is more tightly packed?" she gently prods. "Could we have some lovely stories, some waspish stories?" She chastised another author: "You know, you remind me of those little terrier dogs at fox hunts. . . . They're just so nervous and anxious to please."

Jackie as Editor
By Greg Lawrence
St. Martins, 320 pages, $25.99

Even so, both books are full of testimonials by writers of all sorts to her solicitousness and dedication, her mania for the quality production of her books and her faultless manners. Time and again, her calls to incredulous writers to solicit material ("This is Jacqueline Onassis. and I'd like to talk to you about . . . ") would be met by "And I'm the Queen of Sheba" or hang-ups. She'd cheerfully call back and breezily accept their apologies. "It happens all the time," she'd say with a giggle.

She certainly understood journalism. She once told Gelsey Kirkland: "When Jack and I were in the White House, it was Camelot to everyone. . . . After I married Ari, I was the traitor. . . . And now, suddenly, I'm the world's greatest mother!"

Mrs. Onassis was in full stride as a $100,000-a-year productive editor but was feeling rotten in early 1994 when she was diagnosed with non-Hodgkin's lymphoma. Keeping the dire nature of her illness as secret as she could, she worked through four courses of chemotherapy in a matter of months. When she died in May, her career as an editor had lasted longer than either of the marriages that had made her a legend.

—Mr. Kosner is the author of "It's News to Me," a memoir of his career as the editor of Newsweek, New York magazine, Esquire, and the Daily News.
Copyright 2010 Dow Jones & Company, Inc. All Rights Reserved

Writing in the Washington Post's Book World on December 20, 2010, publishing industry veteran and author Joseph Kanon compared Jackie as Editor with Reading Jackie, suggesting that William Kuhn "finds, for instance, that by encouraging Barbara Chase-Riboud to write her novel about Sally Hemings, Thomas Jefferson's mistress, Jackie might have been revealing that 'she was more sympathetic to the dependent position of the [Kennedy] mistresses than to the supposed injury done to her marriage.' Really? Or how about, 'If her books of photography were about exploring beauty, her books on ballet were about exploring her body.' Come again?..."

"Lawrence, who has worked with show business figures other than Kirkland (Donna McKechnie, Kander and Ebb), at least has a better grasp of what's needed here - not overreaching theory, but the high gossip of the celebrity profile. What did she wear to work? What did she eat? What did she really think of Michael Jackson? He is particularly good on the early Viking years because he talked to the junior staff (as Kuhn did not), who always notice everything. Though both books draw on many of the same sources, Lawrence gives us a more detailed (and interesting) look at Jackie's day-to-day office life. He takes us to lunch with her."

From Kirkus Reviews, October 15, 2010:

One of Jacqueline Onassis's authors dishes kindly on her impressive editorial record....this book fleshes out the editorial career of the enigmatic icon who was the subject of inflated tabloid coverage throughout much of her life yet who proved in her later years to be a surprisingly humble, hardworking team player, first at Viking, then Doubleday. Lawrence co-authored three titles for Onassis during her era at Doubleday, including her first bestseller, Dancing on My Grave (1986), written with his then-wife, ballet dancer Gelsey Kirkland. As one of her authors, Lawrence had unique access to Onassis, and he depicts how determined, tenacious and loyal she could be—especially as the book was criticized for its "salacious material," yet "generated a heartfelt response from dancers." Onassis proudly "felt she got it right."

....Lawrence lets rip the first-person reminiscences from those who knew and worked with her, such as Viking publisher Thomas Guinzburg, who first hired her in 1975 and fell out with her over the acquisition of Jeffrey Archer's controversial thriller Shall We Tell the President? (1977); her various assistants, who shielded her from the hounding of importunate callers and who gush about her work style; and various collaborators of her books (e.g., Louis Auchincloss, also her distant cousin) who were disarmed by her low-key, politely inquiring manner and ready wit. Indeed, nobody says a mean word about this former First Lady who did her job well, holding on at Doubleday despite the seismic corporate changes. Lawrence demonstrates how Onassis grew in confidence and professional stature in promoting books and authors she truly cared about...a deeply admiring portrait of a lady the world is just now getting to know.

8-page black-and-white insert. Agent: Peter Sawyer/Fifi Oscard Agency

From Publishers Weekly:

Charting J acquel ine Kennedy Onassis's impressive legacy as an editor at Viking and Doubleday, Lawrence draws on a wealth ofsources, including interviews with more than 125 of her form er publishing collaborators, and hundreds of notes left to the author by Onassis. He was also one of her authors, co-writing three books wirh his former wife, ballerina Gelsey Kirkland (including the controversial bestseller Dancing on My Grave). Onassis learned the hard lessons ofed it ing early on: from Barbara Chase-Riboud, author of the novel Sally Hemings, that the best authors are those will ing to be edited, and from Michael Jackson, the frustration ofworking with an enigmatic celebrity. This Onassis appreciation appears almost simul taneously with William Kuhn's mislead ingly titled Reading Jackie: Her Autobiography in Books, and while both will appeal primarily to publishing and media insiders, Lawrence's perceptive, impressively researched, book is the better of the two, presenting a woman wirh "a g rand spirit of adventure and...a sense of irony about life that served as a kind of armor" for this courageous, gifted woman.





Introduction

Jackie's Secret Garden

"If you produce one book, you will have done something wonderful in your life." – JKO

Norman Mailer once called her "the Prisoner of Celebrity," aptly characterizing Jacqueline Kennedy Onassis as the ultimate object of media-mythmaking; but Mailer was unaware that by the time he wrote those words in 1983, the world's most famous woman had already masterminded what was to be her escape from the constraints of fame. After two chapters of Jackie's life had been defined by two extraordinary men, after she had been venerated by the world as the widowed First Lady and then vilified for marrying the unworthy Greek, after being portrayed as an extravagant, gold-digging spendthrift in the thrall of jewelry and couture fashion, she was going to find fulfillment on her own terms, and she would do so for the most part comfortably outside the media glare and public awareness.

Whatever else she may have been during her storied lifetime – tragic heroine, elusive sphinx, reluctant icon – Jackie also distinguished herself as an intensely dedicated career woman who left behind a wondrous legacy of books. While Mailer described her as "a princess lighted by a million flashbulbs," he underestimated how artfully Jackie had arranged her private and public lives, an instinctual survival strategy she perfected over time that would ultimately enable her to accomplish her own liberation. Jackie found a professional sanctuary in the world of publishing that was virtually unassailable, even for the paparazzi who staked out her office and boorishly delighted in stalking her.

Jackie's literary bequest has been all but hidden in plain sight since her death, even with a sensational Sotheby's auction that included much of her enormous personal library, because Jackie rarely allowed herself to be credited for her work as editor. Her name appears on the covers of just a scant few of the titles that she published, only occasionally turning up buried in her grateful authors' acknowledgments. Yet Jackie's books, along with her personal writings, are perhaps the best window we will ever have into her heart and endlessly inquiring mind.

In the aftermath of Aristotle Onassis's death, despite the obstacles and intrusive indignities of celebrity, Jackie managed to transform her public image – what she once dismissed as "a little cartoon that runs along the bottom of your life ... one that doesn't have much to do with your life." By devoting herself to her career and role as mother, while carrying on with her commitments to the arts, the preservation of historic landmarks and JFK's memory, she reinvented herself, adopting a more reserved style, while at times displaying the panache of a postmodern saloniste.

Contrary to the Greta Garbo mystique with which she was identified, Jackie was never reclusive. She possessed a grand spirit of adventure and harbored a sense of irony about life that served as a kind of armor, whether jogging in her beloved Central Park, mingling in society, or pursuing quixotic book projects that would take her all over the world. Determined to define herself by her actions, she was well aware her every move would be scrutinized. During the last two decades of her life, photographs of her on horseback at shows in Virginia and New Jersey began to replace reports of indulgent shopping sprees and lunches at Orsini's and La Cote Basque. The public sightings eventually included her entrances and exits at the publishing houses where she worked. She was more likely to be seen visiting the New York Public Library rather than attending glitzy parties or traditional society events. There were many nights when she dined at home with her kids, who she often described as the most important responsibility in her life, and then spent the rest of the evening diligently at work in her library.

A savvy witness to the last century's golden age of publishing as it gave way during her career to megaconglomerates and rampant commercialism, Jackie managed to create an impressive body of work, shepherding more than one hundred titles, despite the undermining corporate culture of at least one of the two publishing houses that employed her. As the bottom line exigencies of marketing triumphed over the traditional domain of editorial discretion and power, she championed books that were dear to heart and fought fiercely for them. She recruited her own private army, enlisting her authors and collaborators as guardians of Camelot, as it were—that lofty Arthurian conceit, which she suggested to historian Theodore H. White for his JFK eulogy that appeared in Life magazine after the tragedy in Dallas. Although Jackie was exercising poetic license with her reading of history, she quietly continued to nurture the concept of Camelot through the books she helped create, with many of them hearkening back to themes from her White House years.

By design, Jackie's editorial efforts were to be anonymous. Regardless of how much work she did on a manuscript, she was old school and adhered faithfully to the self-effacing credo espoused by the legendary editor Maxwell Perkins: "The book belongs to the author." She was part of that tradition of editors who established relationships with their authors that went beyond the formalities of collaboration and commerce. In a publishing world that no longer exists, these editorial stewards of an earlier generation took an interest in the lives of their writers and established lifelong friendships with them, which meant more than simply breaking bread or lending them money when they were in need. Like Perkins, Jackie held fast to the belief that there could be nothing more important than books, and she revered their creators.

A former publisher of Rolling Stone, New York and New West magazines, Joe Armstrong was a trusted friend of Jackie's during her later years and recounted a telling moment with her. "I remember being with her at the Vineyard the last summer she was there. She had just had turned 64. I remember in her living room she had all these books, and she said, 'These are my other best friends.'"

Extreme modesty as much as natural shyness contributed to her much publicized penchant for privacy. As an editor, Jackie displayed a playful mastery of the publishing arena, while acting as advocate for her authors. Her writers and books were the means through which she would express by proxy her ideals in the world of belles lettres, ideals she forged in the personal and historical realities of her own past, even as it was transformed into myth before her eyes.

Jackie, like most of us, had her share of idiosyncrasies, foibles, and character flaws, and there was to be contention along the way with some of her authors and colleagues. But after committing a personal affront or gaffe, she was humble enough to offer apologies, often with flowers and handwritten notes. It should come as no surprise that, as she was an immensely coveted figure in the social marketplace, people would attempt to take advantage of her, and at times she felt compelled to banish some erstwhile friends and collaborators from her world. Anyone who betrayed her confidence to the press was to be "thrown out of the palace," as she put it to one of her colleagues. It wasn't so much ego that led her to cut ties as the insecurities and emotional burdens she carried with her. Having to inure herself to a past that had been devoured by the first television generation was no easy feat. Jackie's step-cousin, the esteemed author Louis Auchincloss, put it simply: "It's very hard to be the most famous woman in the world."

Referring to Jackie's early career as editor, Gloria Steinem asked on the cover of Ms. Magazine in March of 1979, "Why Does This Woman Work?" Jackie provided clues in what was to be, aside from a few cryptic public utterances, her last interview for nearly fifteen years. She recalled, "I remember a taxi driver who said, 'Lady, you work and you don't have to?' I said, 'Yes.' He turned around and said, 'I think that's great!'" With touching eloquence, she went on to describe the reasoning that led her to resume a career in midlife, at the age of 46. "What has been sad for many women of my generation is that they weren't supposed to work if they had families. There they were, with the highest education, and what were they to do when the children were grown – watch the raindrops coming down the window pane? Leave their fine minds unexercised? Of course women should work if they want to. You have to do something you enjoy. That is the definition of happiness: 'complete use of one's faculties along the lines leading to excellence in a life affording them scope.' It applies to women as well as to men."

The quotation Jackie cited was one that JFK also cited on occasion, with various translated formulations attributed to Aristotle and Epictetus (without pinning it down, Edith Hamilton identified the passage simply as "an old Greek definition of happiness"). Steinem applauded Jackie's break with her past and those domineering men she had endured. "Given the options of using Kennedy power or living the international lifestyle of an Onassis, how many of us would have chosen to return to our own talents, and less spectacular careers?" Jackie herself confided to a friend at the time, "I have always lived through men. Now I realize I can't do that anymore."

Jackie's books would afford her the perfect venue and visionary scope to achieve a discreetly understated measure of excellence in her chosen field. Steinem told me, "As for why she chose to be an editor as opposed to some other profession, I think it's quite simple: She loved books. They were windows into hearts, minds, ideas and the world. Books were powerful. If my memory is right, her son John commented to the media that she died surrounded by the books and people she loved."

The views expressed in this book, let it be clear from the outset, will necessarily reflect the affection of those who shared their reminiscences about a part of Jackie's life that has been overlooked. A number of her friends decided to speak about her for the first time because they felt her professional endeavors had not been adequately chronicled or appreciated, while a few others felt bound to silence, as they weighed confidentiality and issues of privacy even in the workplaces they once shared with her. With her steadfast commitment to secrecy, Jackie would surely never have allowed these pages to be written during her lifetime. But, hoping to pay tribute to her memory fifteen years after her death, more than 125 of her former collaborators in the publishing world have come forward with their tales of Jackie, yielding a complex Rashomon that could only have been inspired by such a unique and enigmatic principal player.

One of Jackie's sympathetic allies in the press, celebrity columnist Liz Smith reported on Jackie's Manhattan life for many years and suggested to me, "I never underestimated her. I quietly, simply admired the hell out of her. She was struggling in New York always against great odds, the great odds of her own fame and notoriety. Onassis had been the blot on her escutcheon."

A longtime curator at the Metropolitan Museum's Costume Institute, Katell Le Bourhis, recalled a day when Jackie visited her at the museum and revealed some of those qualities that by nature and pedigree she sought to cultivate in her life and in her books: "One day I remember very correctly, I was like sad, mad, too much work, not much help; I was in a bad mood, the world seemed to me very hostile. She said that day, 'But Katell, you are very privileged, you have your books. You are here at the Metropolitan Museum; you have your beautiful objects.' And then I realized that probably for her, that world of literature, history, French culture, humanist culture, as probably being a secret garden in her life, but also something that helped her go through life as something very private to her. But through remarks like that, you could feel that she was talking about herself. I was very touched when she said that."

Of course, Jackie touched so many lives, her fate having led her onto the pages of history, her public persona magnified almost to the point of grotesque caricature in the Andy Warhol era, only to be further distorted by our collective imagination. The third act of Jackie's saga, which began after her two marriages played out on the world stage, has for the most part been minimized by her biographers, even though it spanned more than nineteen years—almost a third of her life devoted to a calling that became a fervent mission. Jackie regarded books as pathways to enlightenment, each a journey of intellectual enchantment, each affording her the opportunity to interact with people who shared her love of literature and passion for knowledge.

A renaissance woman grounded by her professional endeavors and sustained by the bonds of family – that was the Jackie whom I came to know as one of her authors, fortunate to have worked with her over the last decade of her life. I have my own lasting impressions, one in particular shared by most of Jackie's authors, friends and colleagues who graciously offered up their memories for this book. While Jackie always carried with her the burden of her history, she was not one to flaunt or finger the scars of her life. When working, she conducted herself simply as a professional. The inescapable phantoms of her past were there when we began our exchanges, but they quickly receded, overshadowed by her good will and charm, which were displayed with every gesture and, as many observers have noted, delivered with seemingly effortless grace. She could conquer all with just a parting wave and that beguiling, luminous smile, even with her eyes concealed behind the signature dark glasses.

As Senator Ted Kennedy noted in his eulogy, delivered on May 23rd, 1994, "Jackie would have preferred to be just herself, but the world insisted that she be a legend, too."

In Jackie's secret garden, guided by her heart's compass over a lifetime and by her love affair with books, the legacy lives up to the legend.